Kerwick's paintings are colorful and vibrant: they often depict exotic animals like tigers and cobras with two heads. Le Tigre was Kerwick at his most Kerwick, an acrylic painting of a two-headed tiger.
And it's not the only work that has collectors forking out serious cash. Also in March, British auction house Phillips sold Kerwick's Cool Cats (2019) for $112,300, smashing its estimate of $10,000. In their New York stable it was a similar story, with Untitled 7 (2021) going for $201,600.
Right now, the Australian is one of the most talked about rising contemporary artists in the world. In five years as a full-time artist, Kerwick has exhibited in Paris, London, New York, Berlin, Tokyo, Hong Kong, and Los Angeles.
Spain's national museum of 20th and 21st century art in Madrid, the Reina Sofia, home to the greats of Spanish art including Picasso's renowned Guernica, recently acquired one of Kerwick's paintings.
"It's a career highlight," he says.
An eclectic group of people have bought Kerwick's work. Celebrities like Sofia Richie (Lionel Richie's daughter) and the Olsen twins, billionaire hedge fund manager and owner of the New York Mets Steve Cohen, and Japanese billionaire Yusaku Maezawa (who famously bought a Basquiat painting for $110 million) also have a Kerwick.
Kerwick, who is represented by well-known gallerist Vito Schnabel (son of American artist and filmmaker Julian Schnabel) in New York, and Toby Clarke's Vigo Gallery in London, says he is proceeding with caution.
"The secondary market is scary," he says.
While Kerwick's work can now fetch hundreds of thousands of dollars, to date he's only pocketed a fraction of that, as most of the markup comes after the initial sale.
"I think I might have made a couple of thousand bucks, not much. But at the time I was thinking it's still a lot of money for someone to buy a painting," he says.
"I think a lot of people buy work more as an asset. It's not good for me long term because if there is an oversupply in the secondary market, the demand in the primary market goes down, and then I'm just left making work that nobody wants."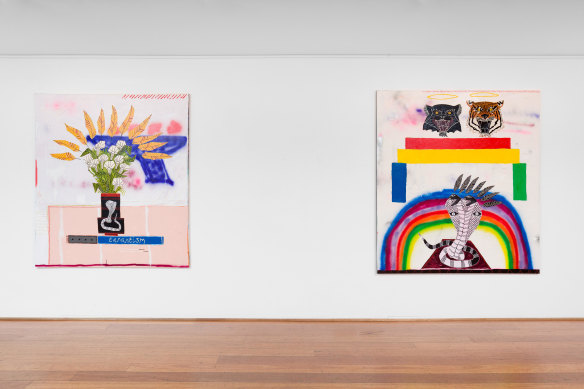 "We have to be careful who we sell to, which was never the intention, I wanted to make art that people would like."
Justin Callanan, director and co-founder of Sydney gallery Piermarq, worked with Kerwick at the beginning of his career and has worked on three exhibitions with him, the most recent in 2021.
"We were thrilled for him and took back," he says. "Historically the global art market hasn't looked at Australia for contemporary art, once an artist moves into that commercial category they can catapult quickly."
Loading
Callanan first approached Kerwick on Instagram in 2017, a platform that he says allows young artists like Kerwick to share their work with a wider audience and connect with artists and galleries across the world.
"Jordy not only interacted using those mediums, he built networks with other artists, similar to how a school of artists approached collaboration back in the day."
He hopes that Kerwick's success means the global art world will "start to look at Australia a little bit more now."
Kerwick has kept the house he bought with his wife in Williamstown, and there's at least one career goal still on his list.
"Being a Melburnian I'd love to do something at the NGV, it would be a dream."
A cultural guide to going out and loving your city. Sign up to our Culture Fix newsletter here.